I've rounded up some fun tech for the beach.
First up – A light up cooler?!
Whether you're hosting a party at home, or spending your day and night at the beach, this party cooler is the ultimate summer accessory. Its powered by LIDDUP, and lights up so you can see what's inside when the party goes into the night. It also has wheels so you can wheel it from the kitchen to the party. And check out the accessories! It has wheels and a bottle opener/catcher!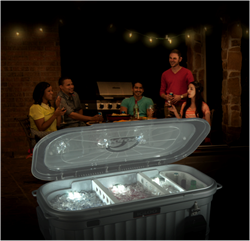 Igloo Party Bar $199.99 at Home Depot, Sam's Club, Amazon, igloocoolers.com
2) Braven: 705 – Waterproof Bluetooth Speaker – If you're spending your day at the beach or in your backyard, you always want some tunes playing, but getting water on your bluetooth speaker is always a risk.

Water resistant – capable of surviving accidental splashes, drops or bumps
Power bank to charge all your devices
Over 12 hours of amazing sound through custom HD audio drivers
TrueWireless™ Technology enables wireless pairing with a second unit for left and right sound
Integrated speakerphone for conference calls
Available in eight colors – (cyan, magenta, yellow, purple, teal, black, grey, and white)
Braven: 705 $99 at Braven.com
3) A popsicle maker?
You can go old school and put them in the freezer overnight or you can use a popsicle maker and have delicious frozen popsicles in 7 minutes! For these delicious monsters, all you need is milk, greek yogurt and some fruity pebbles.
2 cups of chobani greek yogurt, ¾ cup milk and ¾ cup fruity pebbles, just pour into the zoku, wait 7 minutes, and you have perfect popsicles!
Zoku Triple Quick Pop Maker – Sur La Table $49.99
4) A Keurig that can brew cold drinks
This new Keurig 2.0 K250 is a compact version of the New Keurig K450 and can make drinks over ice! – so its perfect for making iced coffee, tea and lemonade.
Keurig 2.0 K250 at Keurig.com $119.99
5) Waterproof Video Camera for Kids? VTech Kidizoom Action Cam
VTech Kidizoom Action Cam $59 at Walmart
great first video camera for kids
durable enough to handle drops and tumbles.
two included mounts so they can attach it to a bike, skateboard and more.
comes with a waterproof case so they can take videos and pictures up to six feet underwater!
explore creativity with fun effects, frames and photo filters.
download photos and videos to a computer using the included microUSB cable
share them with family and friends.
can also play three exciting learning games.
6)  Take perfect summer selfies with a light up iPhone case
Lumee iPhone case $44.95 at lumeecase.com
Comments
comments